Deepika Padukone has come a long way in the Indian film industry, from being a newcomer to facing competition and excelling in her field.
This Bengaluru girl, who began her career as a model, has not only wowed us with each of her public appearances but has also evolved into a true fashion enthusiast.
She has spent years honing her signature style, which has earned her the title of one of the generation's most inspirational fashion icons.
We've compiled a list of Deepika Padukone iconic looks in her movies that make people fall for her.
Here are some of her stunning looks in deepika padukone movie:
Deepika in Om Shanti Om
Deepika Padukone looked stunning in her debut film, which she co-starred with the one and only Shahrukh Khan.
Throughout the film, she wore numerous throwback styles. From brilliant colours to dramatic silhouettes, her designs managed to capture the real vibe of 1970s Bollywood.
The song Dhoom Tana, in particular, brilliantly exhibits numerous inspired quaint appearances.
Even though we didn't get to see her particular style in the movie (due to the plot), her nostalgic costumes are forever etched in our minds!
Deepika Padukone and Chandni Chowk to China
Deepika's dual character in the film left a lasting impression on the audience, revealing a completely different side of her acting abilities and manner.
Corsets and capes were worn by the twin, who is said to be playing a Chinese character. She wore a paler complexion than the other twin, paired with sharp makeup, to further authenticate her role.
Deepika's wing-shaped eyes and poker-straight fringed hair stood out as particularly noteworthy throughout the entire performance.
Who can forget her purple gilded gown and luscious lips from Tere Naina?!
Cocktail
Deepika's costumes became the focus of attention because she changed her entire game for this film.
DP's flair was unrivalled, from summer bikinis to sequined bodycon and sundresses. She even wore quirky printed skirts with stylish crop tops.
We see her wearing gorgeous party casuals throughout the film, making us want to dress the same way on a fun night out.
She wore scorching Smokey eyes to go with her ensembles. We can't get enough of her look from this film, even after a decade!
Deepika Padukone in Chennai Express
Everyone had a good time watching DP in his Tamil avatar. But it was the stunning traditional clothes she donned in this video that struck out.
Manish Malhotra deserves a special mention for his colour choices and the "half-saree" concept, which captivated the audience and made DP look like one of the most beautiful women in the world.
Her outfit with bindis and gajras is still a top pick for a go-to traditional style. Throughout the film, she wore dewy-based makeup with light kohl and nude lips.
"Kaha se khareedi aisi bakwas dictionary?" was a giggle riot because of her wonderful accent!
Deepika Padukone in Bajirao Mastani
Deepika's royal looks had everyone drooling in her debut historical film. The settings and costumes, as well as the makeup and costumes, added to the grandeur of this magnum effort.
Her exquisite cosmetics and stunning outfits were enough to hold the audience's attention throughout the film.
She looked lovely in pastel-coloured dresses and Nizam-i jewellery. Princess Mastani and the equally stunning Priyanka Chopra donned the Nauvari saree in the popular Pinga song. Designer Anju Modi's Bajirao Mastani set a high bar for Indian ethnic apparel.
Deepika as Piku
For the simplicity of the screenplay and acting, this film has established a standard for all previous films. Applause for Deepika's Indo-Western clothes and little makeup.
The happy story, combined with her plain appearance, made for a healthy match for the entire audience.
Piku has the perfect summer wardrobe! DP set a fantastic example for 'less is more' with basic kurtas, wide palazzos, and cotton shirts. Her bindi and kohl eyelids accentuated her beauty even more.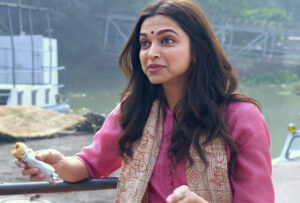 Tamasha and Deepika Padukone
We couldn't help but wonder how someone can appear so stunning in so many simple clothing and cosmetic options! Tamasha by Imitiaz Ali is proof of such a question.
Deepika's appearances in the film ranged from understated casuals to formal ensembles, and her makeup was kept to a minimum.
During her time in Corsica, she donned modest clothes and sported tropical makeup to match her spontaneous vacation.
Throughout the film, Deepika wore a boho-chic look that evolved into more minimalistic looks. Whatever design trend she selected, her outfits stood out and inspired millennials.
These were some of Deepika's stunning looks under the category of deepika padukone movie.